Pratapgad Fort
The Pratapgad Fort is located in the Satara district of Maharashtra. This fort is increasingly known as a major tourist center nowadays as it is primarily located nearest to a hill station 'Mahabaleshwar'. Almost 90% of Maharashtra tourists find it to be worth watching the Pratapgad Fort due to its heroic history and the structure of the fort.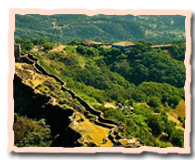 The fort of Pratapgad was built completely in 1656 under the administration of the Great Shivaji Maharaj from Maratha dynasty. This fort was equipped richly with necessities of human beings thanks to the Koyna and Nira Rivers surrounding the place. Pratapgad is one of the major assets of the Maratha Empire. They have made it an important base for attacking their enemies as from this fort, most of the Nizamshahi Empire?s Kingdom can be targeted successfully. The first battle fought in this fort is known as the ?Battle of Pratapgad? between Shivaji and Afzal Khan. This battle can be tagged as a foundation of the Maratha Empire to spread across Maharashtra in the period. This fort even today remarks the Third Anglo-Indian war in the region with the signs of cannon blasts visible on the walls of the fort. This memorable war was fought between the Maratha Empire and British East India Company in 1818, when it was the first time, the Maratha Empire lost its control from the huge fort. There is a shrine of God Mahadev at the upper fort and of Goddess Bhavani at the lower fort built by Shivaji in 1661. It is worth watching this epic of Maharashtra due to its beautiful location and the interesting history.
Pratapgad Fort Map

View Pratapgad Fort in a larger map
How To Reach
By Air
Chatrapati Shivaji International Airport, Mumbai (BOM) 73 km.
By Rail
Nearest railhead is Vir Dasgaon 47 kms.
By Road
State transport offer bus regular and frequent services from Mumbai and Pune to Raigad. Kolhapur (250 km), Pune (150 km), Mumbai (140 km) and Mahabaleshwar (75 km). Public bus charge is less than Rs 2 per km.
Nearest Tourist Place
| | |
| --- | --- |
| | Pune University |
| | Kuda Caves |
| | Mahabaleshwar Valley |